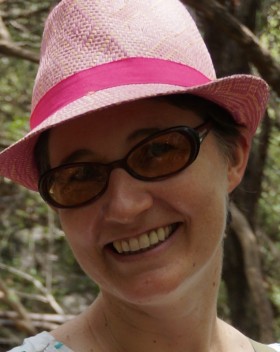 Alethea Lindsay
Key facts
Main areas of expertise: Reality shows, factual entertainment, format TV, blue-chip wildlife, documentaries, children's TV, magazine and archive programming.
Started editing in 2004
Uses Avid, Premier Pro, FCP and Edius
WITS University - Experiments in Storytelling, English Honours Module
Rhodes University - Major - Drama & Journalism

Profile
Alethea has over 150 hours of TV broadcast achieving top audience ratings.  She has extensive experience in the factual genre. Alethea recently wrote and cut her first drama series for broadcast and can also produce, write and self-shoot.  Her biggest strength is storytelling and she loves finding new ways to make programmes, approaching issues and subjects afresh.
Broadcast credits
Babies & Beasts Behaving Badly -Discovery Family -Viral internet home videos featuring wildlife and babies are made doubly-funny when stand-up comedians add their spin.
Body Bizarre -Discovery TLC – A factual entertainment series that tells the human stories behind everyday people afflicted with bizarre body conditions and showcases the scientists and doctors that make it alright again.
Don't Get Done Get Dom –Flame Television for BBC 1 TV personality Dominic Littlewood drives this consumer rights show on in his quest to get justice for consumers wronged by retail. Alethea cut 3×43' episodes consisting of actuality, drama recon, interviews, as well as two social justice strands. A fast turnaround edit for daytime telly.
Wild in the Danger Zone -Animal Planet – A high-end HD pilot documentary that follows a team of scientist into radioactive Chernobyl to discover how the wildlife is faring 30 years on.
Who'd be a Billionaire? – Eps 1 Thinking Violets for Sky Living – A lifestyle documentary/actuality series that explores the cons of being a billionaire.
Million Dollar Idea -Nutopia for Smithsonian Channel – A history series on the inventions that changed history, and made their creators rich.
Saints and Scroungers – Flame Television for BBC 1 – The series follow fraud officers as they bust the benefits thieves stealing millions of pounds every year, while charities and councils track down people who actually deserve government help.
Heir Hunters – Flame Television for BBC 1 – Heir hunters, probate detectives, look for distant relatives of people who have died without making a will. Reality scenes and archive inserts, intercut with interviews & newly shot footage.
JFK: Seven Days that Made a President – Blast Films for National Geographic – This feature-length documentary tells the story of seven critical moments that shaped the man who became a twentieth century icon. Drama reconstruction blended with never seen before archive footage and interviews, reveal the contradictions and charisma that made JFK America's most popular modern president. One of Nat Geo's most talked about documentaries in 2013.
David Attenborough's Micro Monsters –Atlantic Productions for Sky 3D – Behind the Scenes A one hour special showing behind the scenes in David Attenborough's Micro Monsters where David and his team are up against the odds as they battle to film the world smallest creatures in Macro 3D. Fast-turnaround re-cut in time for transmission.
Snow Leopards of Leafy London – Artists in Motion for Animal Planet – Quirky English gentry, a pair of army vets, and eight opinionated snow leopards make this wildlife documentary series set at a UK rehab centre, eminently watchable. Series mixes up a number of genre elements, combining a fly-on-the wall feel with sporadic cameraman intervention and blue chips scenes.
Unexplained Ancient Secrets – Atlantic Productions for Discovery US – Ancient stories told afresh in this fast-paced documentary series, that looks at the scientific processes used to separate historical fact from fiction . Episodes cut from archive footage and pre-existing shows included – Ramases, Nefertiti, Valley of the Kings, Tomb Builders, Columbus, Animal Mummies.
Infested -Discovery US – America's worst animal nightmares are brought to life in this "no holds barred" actuality series that documents infestations in people's homes – combining dramatic re-enactments with personal testimony and scientific fact.
Tarsier Tails – Artists in Motion for CHANNEL 5/BBC Worldwide  – Observational documentary wildlife series that follows the highs and lows of two gremlin-like spectral tarsier families over a period of a year.
Googoosh Music Academy – Unique TV–Manoto TV – The Iranian "X-Factor", this foreign language entertainment show sees 10 exiled Iranian musicians compete for the favour of Iranian Mega-Star Googoosh.
Put Your Money Where Your Mouth Is – Reef TV for BBC 2 – Antiques format show that sets up the competition between two experts to buy and sell antiques for profit as a gladiatorial romp. A high pressure, fast turnaround show made in the edit.
One Born Every Minute – Christmas Edition -Dragonfly Film and TV Productions for Channel 4 – Hugely popular actuality/reality programme set in a maternity hospital. Part of a crew of 6 who edited at night to make inserts read for a daily live to air transmissions.
Patchwork Guilt – Goldfish Films – A controversial documentary that explores the feelings, images and contradictions that surround gender violence in South Africa. The documentary is a mix of styles that includes ob doc, archive documentary, contrived scenes, animation and even music videos. Scenes include confrontations with rapists, hostile mob marches, rare access to the annual Royal Zulu virgin Reed Dance attended by infamous rapist president-to-be, Jacob Zuma. Screened at the BakaForum Film Festival in Germany. Banned for broadcast on terrestrial channels. Concept winner of International Proposal Prize 2008. 
The Explorers – FPWC – Armenian TV – An educational Survivor-style reality series that tracks 6 teenagers journey through the wild Khosrov Mountains armed only with an Ipad. Preloaded software leads them through challenges that explore cultural and environmental themes.
Illegal Guns in South Africa – Swiss TV – Before the 2010 Football World Cup gangsters on the Cape Flats refuse to hand in their guns, even though the government has granted an amnesty. Instead they plan to use the guns to help with a bit of world cup "shopping".
Soweto TV Training – Swiss TV – Down and out Soweto kids are taught TV skills so that they can make programmes for their local community TV channel.
Sexuality and Human Rights- SABC – SABC3 – A human rights documentary that tracks the history of sexuality and human rights in South Africa from the 1950's immorality laws to legislation passing gay marriage in the mid 1990's, and then again a law passed in 2008 banning teenagers under 16 from kissing in public. It included interviews with Lisa Vetten (gender rights lawyer), and members of gay rights groups and civil society groups. Archive & newly shot footage.
In Our Own Voices -Goldfish Films – SABC 2 – Teenage survivors of gender violence use home-video cameras to tell their stories in this UNICEF sponsored production. Her Dance of Victory: In this character-lead story a 14 year old choreographs a dance to help other survivors of gender violence process their trauma, as well as to highlight gender violence in her community. Highest ARs of series.
'Til Death Us Do Part Series – Goldfish Films – SABC 3: Shot Fonder Hearts: A character driven ob doc set in an impoverished fishing community that follows a couple that have stayed together largely because they spend so much time apart. Matters of infidelity, alcoholism, violence and poverty needed to be sensitively portrayed. Highest AR's of series. One Love: A documentary about a Rastafarian couple that have crossed the race and class divide to be together – with very surprising results.
Forever Africa -Imageworks – SABC 2 – A character driven documentary following celebrity photographers Peter and Beverly Pickford as they travel to photograph Africa's truly last wild places, as well its last truly ethnic-identified tribes.
Heart of the Feast – Imageworks – SABC 2 – A character driven documentary with top SA Franschoek chef Vanie Padayachee as she explores the South Africa olive industry in the Cape.
Secrets of Nature – Imageworks – SABC International Sales – An African wildlife series made from archive footage that Alethea sourced from over 2000 different programmes.
Loxion Lyric – Imagine That Films – SABC 1 – Series Editor, Creator & Writer. Ranked as the third most popular TV show during broadcast, with an, on average, 46% audience share, this primetime 13 x 24' drama series follows the journey of 5 teenagers who are forced to start a band to stay out of trouble with the law. Shot entirely on location in Kwa Thema, a township that gave rise to musical greats such as jazz legend Hugh Masikela; the series uses music from local musicians as its soundtrack and pioneers the educational Sabido telenovela technique to subversively teach the viewers financial skills.
Wille Wêreld Season 2 – Goldfish Films – SABC 3. A 52 part series for children ages 6-9, set behind the scenes at the National Zoo in Pretoria South Africa. Reality footage was combined with drama links & archive wildlife footage. Children learned about nature, whilst at the same time learning life skills from nature.
Wille Wêreld Season 2 – Goldfish Films – SABC 3. A 52 part series for children ages 6-9, set behind the scenes at the National Zoo in Pretoria South Africa. Reality footage was combined with drama links & archive wildlife footage. Children learned about nature, whilst at the same time learning life skills from nature.
Wild Ones – Goldfish Films – SABC 3 – A 26 part wildlife and environmental series set in a playroom for children ages 6-9. Two children learn about wildlife as well as about life skills such as teamwork, bullying and setting boundaries. Live animals, drama and archive footage.
Caught in the Act – Aquavision Film and TV Productions – Pilot for presentation to Nat Geo on amazing animal footage caught on camera by tourists. Made with home-video and HD archive footage.
The Devil in the Box – SABC Archives – A look behind the scenes at South Africa's great propaganda & identity-making machine, the SABC, from its inception to the current day. Also developed 8 x 24' treatments for additional episodes.
CORPORATES INCLUDE: Disney Store Videos (USA), Christmas Video, and Promos for ABC TV – DMI Productions (Nov, Dec 2011 & Jan 2012) Husky Corporate Video – Vivid Productions (Aug 09) Take a Girl to Work Day – Cell C (2008) Corporate Email Inserts & End of Year function video – Londolozi TV Productions (2006) World Vision – Africa Cycle Challenge – Imageworks Film & Video Productions (2005) National Skills Authority – Imageworks Film & Video Productions (2005) Ericssen Corporate Videos – Imageworks Film & Video Productions (2004) Sector Education & Training Corporate Videos – Imageworks Film & Video Productions (2004)
PROMOS & TRAILERS INCLUDE: Hunting the Hunters, Mamma Rhino, Joburg Radiation, ER Bush, Eden, Company Showreel – Artists in Motion (2013) Rock Stars – Artists in Motion – Promo for pitch to Discovery (2011/12) KSI (Killing Scenes Investigation)- Aquavision TV Productions – Promo for Pitch to Nat Geo (2006) Tender Killers – Obsessively Creative – Promo for pitch to Nat Geo (2006) Wild Zone & Living Earth – Wildlife Promos & Title sequences for SABC International Sales (2004) Killing Trees, Night Hunters & Jet Protectors – Imageworks – Promos for pitch to Nat Geo (2004)
ADVERTS: Union Tiles Advert –– Imageworks – Broadcast Multiple Channels