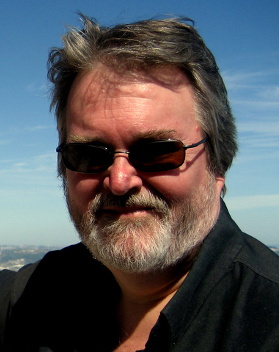 Bill Ogden
Key facts
Main areas of expertise: documentaries, current affairs, factual entertainment
Started editing in 1985
Uses Avid, Final Cut Pro
1st Diploma in Film and TV studies from Harrow Film School
Profile
With a background in film editing, Bill made the jump to offline and online editing in the 1980s. He is widely experienced in all genres and has worked with many well-known directors and series producers. He can work well under pressure and always brings his creative input to a project.
He has worked on programmes for Stuart Prebble, Judith Dawson, Ken Russell, Aubrey Powell and Stephen Frears, to name just a few.
Broadcast credits
Extraordinary People: Teenage OAP The story of Zara Hartshorn and her search for an answer to the disease which, at 16, makes her look much older. Barcroft Productions for Channel 5
Raiders of the Lost Past 3 x 1 hour programmes telling the story of great mysteries throughout history and the people who claimed to have solved them. Yesterday TV
All Roads Lead Home A series about natural navigation featuring Allison Steadman, Sue Perkins and Steven Mangan, all of whom have to find their way around without a compass, map or satnav. BBC 2
The Grumpy Guide to Driving The Grumpies vent their spleens on modern day road users and the hell of driving. Liberty Bell Productions for BBC2
Les Mis at 25: Matt Lucas Dreams the Dream A Christmas special following Matt Lucas as he joins the cast of this amazing long-running show. BBC 2
Monte Carlo or Bust A factual comedy series starring Jack Dee, Ade Edmonson, Rory McGrath, Penny Smith and Julian Clary as they race across France. Modern Television for ITV
Frank Skinner on George Formby An affectionate look at one of Britain's most popular entertainers by one of his biggest fans. BBC 4
Michael Portillo: Digging Up The Past The tragic story of what happened to ordinary people under Franco's regime, including Michael's father. BBC 4
How Britain Got the Gardening Bug Feature length special on our relationship with our gardens since WWII. BBC 4
Alistair Campbell: Cracking Up Alistair tells the story of his own nervous breakdown. BBC2
Death of a Schoolfriend The moving story of a young man's suicide and the impact it has had on his family over the years. BBC2
Songbook Series 1, 2 and 3 Interviews and live acoustic performances from artists such as Phil Collins, Jarvis Cocker, Don McClean, James Blunt and many more. Liberty Bell for Sky Arts
Heston Blumenthal : Perfection Two episodes featuring this amazing chef's take on everyday dishes. BBC 2
Nigella Kitchen Christmas special featuring Nigella at her indulgent best. BBC 2
Making the Steamroller Fly An in-depth look at Jean Michel Jarre and his amazing concerts.