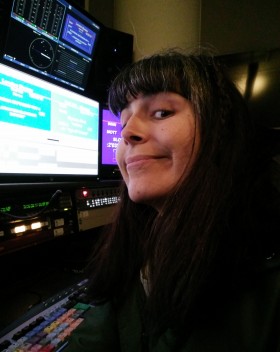 Eva Crespo
Key facts
Main areas of expertise: News, Current Affairs, Sports and Documentary.
Started editing in 2009
Uses Avid Media Composer, Premier CS and Final Cut Pro 7
BA in Audio-Visual Communications - University of Barcelona
PG Diploma in Climate Change Impact and Sustainability

Other courses:
International relations and world conflict, Documentary Course, Screenplay and dramatic fiction
Profile
Eva is comfortable working with short and long-form content and has strong sense of storytelling. She is highly organised, fast-paced and used to working under pressure and with tight deadlines. Being technically minded, she is used to dealing with file formats, codecs, database media management systems such as Avid Interplay for Avid and IP Link for FCP. Additionally, Eva is a proficient camera operator with own equipment. As well as speaking English, she is also fluent in Spanish and Catalan
Broadcast credits
NEWS
NBC News – London Bureau  – Avid Picture Editor Freelance Using Avid MC, Interplay and Latakoo. Covering news from Europe, Africa, Asia and the Middle East for the daily Today Show (Breakfast talk and News show) and the Nightly News at NBC News Usa.
Sky News – Freelance FCP 7 Video News Editor Working with FCP, EVS and IP Link. Editing News for Sky News (Including Sky Midnight News, World News and Sunrise Breakfast Programme)
ITN News – Freelance Avid Picture editor Using Avid News Cutter, Interplay and Airspeed. Producing news content for ITV News London, ITV News at Ten, and 5 News Tonight at Channel 5.
Arise TV – Global Media Network – Freelance AVID and Premiere Picture Editor Using Avid MC, Premiere, Carbon coder, Interplay and Airspeed. Media Managing. Editing news and entertainment programmes for Arise TV, a Global News Channel with international focus on global news and an special interest in the African Continent. Programmes included : This Day Live, Arise News Hour, World Briefing, Global Sport, Africa Wrap and Show Business.
Discovery Channel – Animal Planet –  Freelance offline Avid editor.  Episode 4- 5-6-7. 4 out of 7 x 30′. Documentary series. Artist in Motion. "Snow Leopards of Leafy London" ( mix of wildlife & ob doc ) Natural history observational documentary series following a year in the life of a big cat sanctuary on the outskirts of London, with a focus on the breeding program being carried out with their Snow Leopards.
Channel 4  Finland and YLE Finish Broadcasting Corporation – Freelance News and Current Affairs FCP editor and camera operator (ENG) Working alongside 2 different Finnish Correspondents in London. Filming and editing on site, compressing and uploading final piece to FTP for broadcasting.
Media Ark – Freelance FCP7 VIDEO EDITOR Promos for MSC Splendida Cruise Operator.
NICOLA – New International Company of Live Art Association. Young people and arts. FCP 7 PICTURE EDITOR. Documentary "My World My Way"
Channel 4 – Food Zone – The Digital Content Agency FCP editor on 'How to" video recipes. 11 x 3 minutes cookery series. Digital content for the web. This included directing, filming editing and outputting finished content to various formats as require.
Talk Action – Green events and Environmental training promo videos. FCP editor for Green events and Environmental training promo videos.