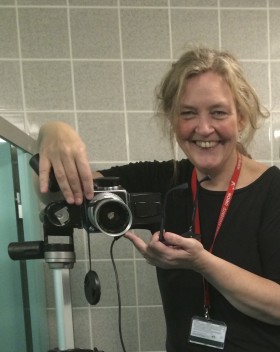 Lorraine Loughrey
Key facts
Main areas of expertise: News, features, documentaries and promos
Started editing in 1995
Uses Avid Media Composer, Avid Xpress, Newscutter, Final Cut Pro, Premier Pro, Quantel Edit, Interplay
BBC trained, conversational French, learning Arabic

Profile
Winning a coveted BBC traineeship in 1995 Lorraine moved quickly up through the ranks of editors.  Lorraine is a motivated and experienced editor, she has an eye for detail and works consistently well on long format and short fast turn around edits. She is organised and can work to tight deadlines.  Lorraine works well in a team and is equally happy to work on her own. She has strong editorial judgement and works well with all levels of production crews.  Lorraine is kind, friendly and creative making her very open to working collabratively.
Broadcast credits
ITN National News – Work on National News and Regional News using Avid.
Good Morning Britain – Working on packages and out of vision (OOV/ULAY) sequences for presenters to voice live. Avid
Arise News – London Bureau for Nigerian News Channel. Fast turn around of News packages and some specials. Avid, Premier Pro.
NHS – Employed as shoot/edit for an information video on YouTube. Avid.
Broadcast Credits at the BBC: Iraq the Long War with Paul Wood Portrait of an artist with Razia Iqball 20111/3 Gillian Ayres 2/3 Antony Gormley 3/3 Zaha Hadid The Stockline Explosion with Reevel Alderson 2007 Film Review 2008 with Mark Kermode
BBC Newsnight –  Lorraine attended the daily briefing with the On the Day Editor and the Director and liaised with them about programme needs. As well as editing herself, she would allocate the day's editing and perform tech reviews prior to live transmission.
BBC Scotland (Attachment to Pacific Quay) – Lorraine worked on a variety of BBC Scotland's output most notably the Scottish Newsnight and a documentary about a devastating gas explosion that had happened in Maryhill Glasgow in 2004. As an avid editor Lorraine helped the editing team get to grips with the new kit and new ways of working. It was an interesting experience to be involved with the move from Queen Margaret Drive to Pacific Quay and help deal with teething problems as they came up.
BBC National News, and World Service TV News – Lorraine was one of six team leaders working across all outputs. She was responsible for allocating work to her team.   She attended editorial meetings, and would trouble shoot issues as they arose. Lorraine would ensure the team knew the focus of the day, what they were doing and with whom. She would liaise with the programme Editors, video editors and producers over the course of the day to make sure everyone was up to speed with what was going on.   Finally she would attend programme debriefs, and would raise issues as necessary, discuss workload and feed back relevant information to the team.
BBC Three – Lorraine was one of a team of editors responsible editing Liquid News, Celebdaq, The Seven O'Clock News and 60 Seconds. The work was creative and varied.
News 24 – Lorraine set up procedures and ways of working. She managed programme expectations on what could be produced with limited resources. Lorraine and her fellow team leader turned round an area that was very difficult to work in and in doing so they made it a more enjoyable place to work.
News 24 – Lorraine was initially appointed to this role to help with the excessive workload the permanent team leader had on the Channel. Her role as acting Team Leader was to support him and help come up with ways to resolve some of the issues that were causing problems. This was a very rewarding and interesting time for Lorraine as she found her problem solving skills really came to the fore.
BBC News – Lorraine worked across all BBC News output: National News, the News Channel, World Service TV News, Newsnight and 60 Seconds. She has worked on documentaries throughout her career and has had several credits.