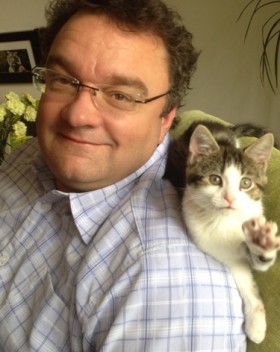 Neil Stewart
Key facts
Main areas of expertise: sports, promos, documentaries, entertainment
Started editing in 1995
Uses Avid, Adobe Creative Cloud, Final Cut Pro
North West Editors Guild
Profile
Creative, hard working, speedy, accurate and good-humoured editor Neil has a sharp storytelling ability, an editorial / journalistic mind with quick, sound judgement, stemming from a long career in the industry.  This also means that Neil can turn his talents to almost any genre.
Broadcast credits
BBC Sport Match of the Day, Formula 1, Rugby, Football Focus, Australian Open Tennis, London Marathon, Great North Run BBC
The One Show Editing VT inserts for this popular BBC1 programme. BBC1
The Heaven & Earth Show A long-running show for BBC religion. BBC
The A-Z of World War One A compilation of films on different aspects of WWI using drama, archive and animation. *RTS NW Winner – Best Education Programme 2014* BBC Learning
Virually There: France Programme for KS2 pupils learning foreign languages for the first time BBC Learning
Tips for Young Composers Skills and best practice to students who are composing their own music BBC Learning
Blue Peter VT inserts for this classic children's TV programme CBBC
Hider in the House Children's game show presented by Jason King and Joel Ross (aka JK and Joel) At It Productions for CBBC
X-periMENTAL Children's science magazine show Endemol for CBBC
The Big Quiz: Corrie v Emmerdale A one-off quiz special featuring guests from Coronation Street and Emmerdale. *RTS NW Winner – Best Entertainment Programme 2012* ITV
Emmerdale Live: The Fallout Live episode following the fallout of a helicopter crash. *RTS NW Award – Best Entertainment Programme 2013* ITV
Ade in Britain Adrian Edmondson travels across Britain meeting traditional food producers and people continuing ancient customs. ITV
My Tasty Travels with Lynda Bellingham The actress travel across the UK sampling some of the country's best ingredients. TwoFour for ITV
Countrywise Kitchen A very popular food series hitting viewing figures over 4 million. ITV
30 Years of an Audience With… A series featuring celebrities answering questions thrown at them by other celebrities ITV
Animals/People/Britain Do(es) The Funniest Things This popular format features quirky home videos from around the world ITV
Tonight with Trevor McDonald Current affairs programme with the legendary newscaster ITV
That Antony Cotton Show Comedy chat show ITV
Baby Ballroom – The Championship Twelve pairs of ballroom dancers, aged between six and eleven, compete for the title ITV
Soapstar Superstar Soap opera stars showcase their singing skills ITV
Jeremy Kyle Show Family feuds, confrontations and reconciliations ITV
SuperSkrimpers Money saving tips helping the nation scrimp and save Remarkable TV for Channel4
How to Look Good Naked Gok Wan presents this inspirational fashion series Maverick TV for Channel 4
3 Minute Wonders Rory Peck Awards Steve Boulton Productions for ITV
4PLAY Featuring Elbow Beckie Garvey Productions for Channel 4
Age Gap Love Series featuring amazing revelations from age–gap lovers Channel5
Briatian's Flashiest Families Documentary featuring some of the UK's most unashamedly excessive spenders Channel5
Shrinking My 17 Stone Legs Part of the Extraordinary People series Channel5
It Pays To Watch! – 2 series A money saving show presented and written by money saving expert Martin Lewis MoneySaving Productions for Channel5
Don't Get me Started Different opinion-formers give their views on particular issues Liberty Bell for Channel5
Investigative Reports The Danger On Your Plate Arts & Entertainment Network (USA)
Corporate Films Wella, Clarks, Astra Zeneca, Jaguar Land Rover, Baxi, Marks & Spencer, Aston Villa FC, West Ham United FC, Asda, Pioneer Electronics, Silentnight, British Shoe, Kerry Foods, Adams Childrenswear, Bolton Wanderers FC.