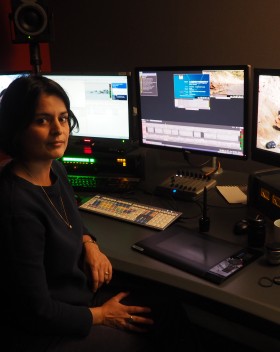 Rachel Qureshi
Key facts
Main areas of expertise: News, Current Affairs, Entertainment News.
Started editing in 1994
Uses Avid, FCP, QEdit, Interplay, Airspeed.
BBC Centre for Broadcast Skills Training (CBST) - Avid Media Composer Editing 101; Advanced Techniques for Media Composer 201; Advanced Media Composer Effects 201.
City & Guilds 770 TV, Video and Media Techniques

Profile
Rachel has an impressive track record for providing news stories for live broadcast.  She has covered diverse genres within this area – news, current affairs, arts and culture, sport and factual entertainment.  Rachel has honed her skills as a story teller using visual effects and sequence creatively.  She is very well regarded within the industry and has built strong relationships with correspondents and journalists who trust her with their remits.  As well as being quick, she takes pride in retaining high quality production values in her work.  Rachel has worked with teams creating new formats in news.  She has also worked as an ENG camera operator.
Broadcast credits
BBC – Manchester, Leeds and Newcastle – Multi-skilled operator for live regional news programmes. Duties included video tape editing, live tape transmission, studio camera operations, sound mixing, location camera and outside broadcasts.
BBC Three – Liquid News – Celebrity news programme requiring an energetic approach to editing.  Rachel could rely on her creativity to  add excitement to archive and standard news footage.  She was trusted with managing the workflow effectively to meet transmission times, whilst considering rendering times and remaining imaginative.
BBC Three 7 O'Clock News – Rachel joined a new editing team to help reformat standard news formula for a younger target audience.  With a brief to "make news less boring" she created stories with strong visual impact using titles, split screens, graphics animations, colour grading and sound effects to make a pacy and dynamic presentation of the news.
Click Online – BBC Three – The BBC's flagship tech programme.  A guide for the latest gadgets, games, websites and computer industry news.  Broadcast on five BBC channels as well as online.  Editing multiple storylines, headlines and weekly strands to produce a 30 minute programme.  This needed a creative use of archive and rushes as well as developing templates for future programmes.
BBC Network – World, Breakfast, and Network – Rachel always worked confidently and quickly within a breaking news environment, ensuring broadcast standards and journalistic values were upheld.  She was trusted to select the best soundbites and shots to interpret the stories correctly.
This Week – BBC 1 – Live political programme discussing the big issues of the week.  Rachel edited the regular film sketch, helping to lone the story up for the studio panel and guests to debate.  The ideas reflected the humorous, light-hearted tone of the show.
This Day Live – Arise News Hour – Cutting news stories for a global and entertainment channel with a focus on African news content.  Using file management systems such as Interplay and Airspeed and confidently managing various codecs and file formats.